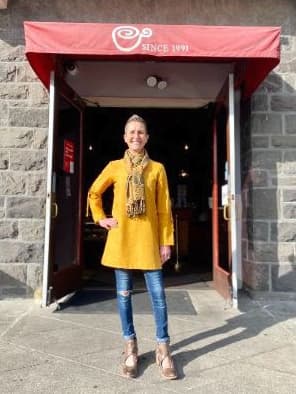 Aroma Roasters is celebrating their 30th anniversary this month!
On January 19, 1991 Dayna Irvine and Sandra Young opened the doors to A'Roma Roasters in Railroad Square. Their vision was to have a safe place where anyone could go to besides their home or work – "a third place" where one could enjoy a great cup of coffee or espresso drink and study or listen to live music and make new friends. Empty for seven years, the old baggage claim building for the Southern Pacific Railroad became the ideal location to start a business. Cornmeal crust pizza was Dayna's first idea but she could not master a good recipe. However, having a passion for great coffee and a love for people gave Dayna the idea for A'Roma Roasters. While business started off slowly, two months later an article written by the late Susan Schwartz opened up the floodgates and the business gained momentum and a following. Dayna has never advertised her business; she just let it grow organically. This year marks 30 years of hard work, loyal customers and the love and devotion of employees who make A'Roma Roasters what it is today.

Dayna and her energetic and friendly staff never fail in making the cafe a welcoming place to be.